The Wavebit Asset Tag is the most versatile and simple real-time GPS tracker available. It is suitable for tracking personal vehicles as well as your professional equipment. It will notify you immediately by email / SMS as soon as your asset starts to move, it is an ideal anti-theft companion. It works on the Sigfox network allowing roaming without extra cost in more than 40 countries. Robust and waterproof IP67, it simply mounts anywhere and needs no accessory configuration or SIM card to be used. Its non-rechargeable, replaceable battery will ensure record-breaking battery life.

Very long autonomy
From several weeks to several months depending on use.
Easy mounting
Its robust, waterproof housing is easy to mount, both indoors and outdoors. It can be screwed on or use standard mounting accessories.

Replaceable battery
Powered by a standard CR123 battery which provides the longest battery life with a very low self-discharge for maximum battery life. An email/SMS alert will notify you when to change it.

Sigfox network
Uses the Sigfox LPWAN network for maximum autonomy and native roaming in over 40 countries.

Email / SMS alerts
As with the Urban Tag, receive email / SMS alerts when you move, enter/exit a zone, stay still for a long time…

Anti-theft protection
Among its many functions, anti-theft is certainly one of the most essential. Receive an alert as soon as your vehicle / object moves and track it.

Waterproof – Dustproof
IEC60529 IP67 : No ingress of dust; complete protection against contact (dust tight). No ingress of water when submerged up to a depth of 1m for 30 min.
UV resistant, durable ASA material.

Integrated sensors
Accelerometer, GPS (Latitude / Longitude / Altitude / Instant Speed), temperature sensor.


API
A REST API allows raw data from the tracker to be sent to third-party applications for advanced use.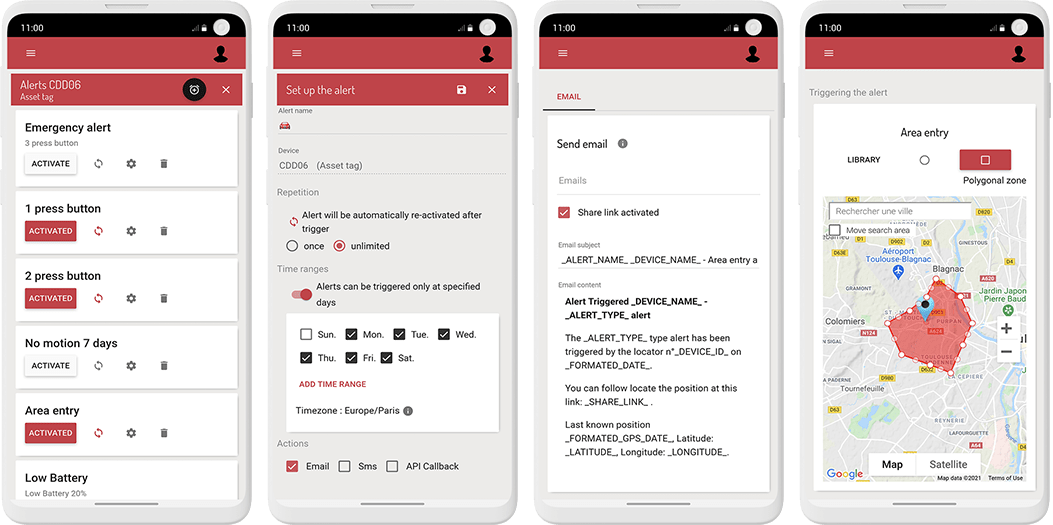 Create up to 4 different types of alerts.
With Asset tag, create different types of alerts from the Wavebit IOS / Android app or the Wavebit Connect platform.
Zone entry and exit alert (geofencing)
Motion alert
No motion alert
Low battery alert
Long-lasting, autonomous live tracking.
Turn on your Wavebit Urban tag and the real-time tracking starts.
A position is sent to the internet every 10 minutes.
Share your track i one click if you want to be followed by your friends and family.

A related web/mobile interface.
Keep an overview of your activities on the Wavebit web/mobile interface.
Set up your trackers, create alerts, share your path, configure zones, etc.